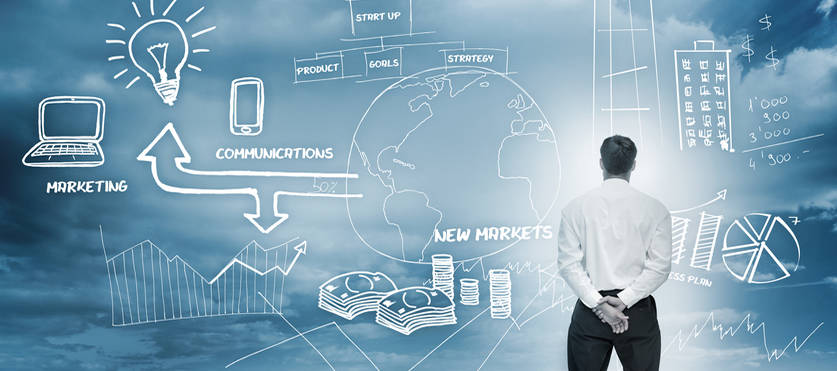 …but where do you start?
It all starts with Content Creation, the benefits of which relating to your business are many-fold. More and more people are beginning to realise this but what has changed to bring this about? Well, nothing really. We've been creating content in many different forms for years but the relatively recent addition to our set of tools came in the form of the 'blog' which brought at least one type of content creation to the masses. 
So, writing a blog (see below for where the term 'blog' comes from) should be easy, right? On the face of it, if we know our onions, we should all find it relatively easy to write a blog (or create other types of content) when we feel the need to explain something new or fresh to our readers/followers/clients/prospects. Whether you're a creative type and you've discovered a new technique, or you're a manufacturer bringing-out a new product, or you have some insight about your industry you feel the urge to share, these are all valid and excellent reasons to create content.
Many of those who realised way-back the benefits of continued online publishing in the form of blog posts now have a huge library of credibility-building articles and with the plethora of social media channels now available through which they share this content, they are perceived as experts in their field, individually a Key Person of Influence.
Content is King and always will be but creating content is about far more than just blogging as there are many types of content that will build your online presence, your social collateral and, ultimately, your credibility. In simple terms, when someone Googles you, or something you do, you ideally want them to find you and only you. So off you go now and create some content. Lots of content.
Can't think what to create? Ok, so you're not alone as this is where the vast majority struggle and even fail because they just can't think what to create or even what to do with it if they do create something and now that content creation has become mainstream marketing reaching the consciousness of the masses, there's a problem; writer's block.
If it were possible to wear-out words though over-use, the phrase "I don't know what to write" would be fading rapidly into insignificance but, fear not, help is at hand. You just need to think about content creation in a structured way and use this structure every time you need to create a new piece of content as it will never fail you.
When thinking about new content the three main considerations are:
1) The basis of the content, the fundamental reason for creating it; the 'why'
2) The form it will take, what it will actually be; the 'what'
3) The method of delivery or distribution throughout the known universe; the 'how'
This may sound a little daunting but here is an infographic we developed to help our clients keep to a structure so they always follow the same steps in the same order for creating new content. Starting from the centre wheel you decide on the 'why'. Once you're clear on this, move to the arrows to decide on the 'what' and when you know what you're going to create the outer circle will show you the 'how'.
Content Marketing is all pervasive and is what's it's really all about. It's a relatively new buzz-phrase but, to be honest, it's never been any different. Newspapers, magazines, TV & radio have been the primary channels for Content Marketing to capture and keep your attention (and your money) for many years – just look at the lengths the likes of Coca Cola go to with their engaging advertising campaigns. Until now (at least relatively recently) the average person/business owner just didn't have access to such a large and diverse audience for such a minimal investment.
So, go and experiment. Create content about what you do, what you're passionate about and what you want people to know, and then tell the world about it.
---
The term 'blog': We've had web-logs ever since we've had any sort of online communication capability and these web-logs were most often the work of an individual who created a website with mini-articles, usually displayed in reverse chronological order (newest first), around a single subject or area of interest. The term 'blog' wasn't even in existence until the late nineties and is a truncation of the words 'web' and 'log' – a 'web log'. Later, the natural fluidity of language combined our penchant for turning an otherwise perfectly clear, multi-word description into a noun, and the single-syllable word 'blog' was born.
As if that wasn't enough, it also became a thing we do; we blog, you blog, she blogs. We are blogging and we therefore all become bloggers. The word 'blog' appears to have entered dictionaries around 2003 – and you thought it was a new-fangled thing, didn't you?